The National Cemetery at Beaufort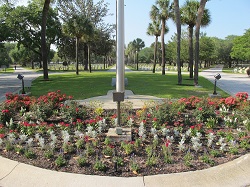 As part of the commitment of the Beaufort Garden Council, the Civic Beautification Committee is responsible for the flagpole area at the entrance to the Cemetery. Committee members weed, prune and change the flowers seasonally, following a red, white and blue color scheme to honor our patriots.
To read more Click here                    Beaufort National Cemetery     Find a Grave
'Plant America'-Arbor Day Tree Plantings
The Civic Beautification Committee selects the planting location and type of native tree to be donated by the Club. The goal is to provide more trees annually throughout Beaufort, Tree City USA.
Learn more by Clicking here:  Plant America Initiative