The Beaufort Garden Club's 24th annual Garden-a-Day event took place the week of June 4-8. Every day from 9:00-12:30, rain or shine, area residents and tourists leisurely strolled through two lovely private gardens while guided by local Master Gardeners.
Following 18 months of harrowing gardening conditions including two damaging hurricanes with major tree loss, flooding and a deep freeze…amazingly, we were able to showcase 10 spectacular gardens. These gardens are testaments to the owners' passion, persistence and creativity! Tour visitors found instructional ideas at every turn.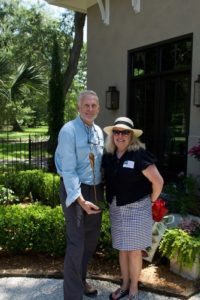 Monday, the garden tour began with two lovely gardens in Habersham. 2018 Garden-a-Day Chair, Sheila Drouin, presented Doug Schuler (l photo) and Nick Friend (r photo) with engraved, copper calla lilies.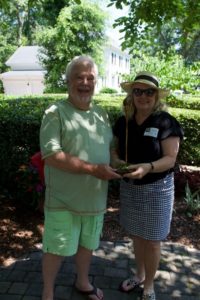 .
We boarded cart shuttles to two gardens in The Point on Tuesday. Sheila presented Chuck and Fran Symes (l photo) and Kurt Rosell (in absentia) with their remembrance gifts.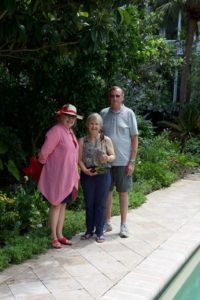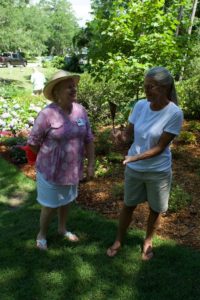 Wednesday found us in Cottage Farm, where Eliza Hill (l photo) and Jessica Brown (r photo) accepted their commemorative "Callies" to applause.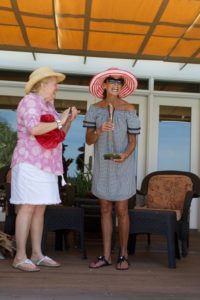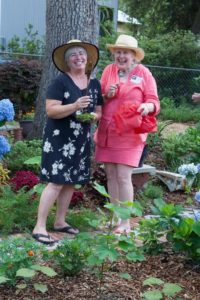 Our own club member, Patricia Howell (l photo), and Teresa Maude (r photo) hosted us on Thursday in Pigeon Point.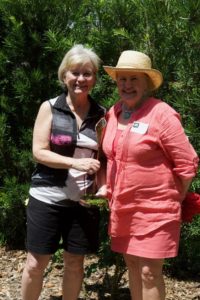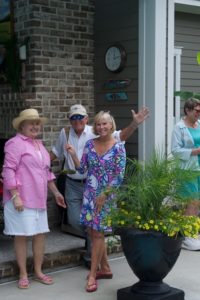 The tour culminated on Friday with two spectacular gardens on Ladys Island. Trea and Tom Tucker (l photo) and Bonnie Carmody (r photo) were delighted with their art gifts and the day.