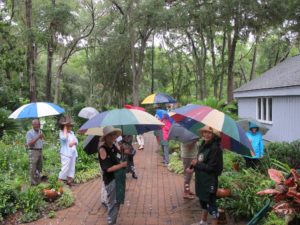 The Beaufort Garden Club's 24th annual Garden-a-Day event took place the week of June 5-9. Every day from 9:30-12:30, rain or shine, area residents and tourists leisurely strolled through lovely private gardens while guided by local Master Gardeners.
Garden a Day week began Monday at The Point. 2017 GAD Chair, Natalie Bowie, presented Edward Marchetti with an engraved stone for the garden belonging to The Sonuks.
For Tuesday's garden, we boarded "the train" to Spanish Point. Natalie presented Beaufort Garden Club member, Holly Karnath, with her commemorative garden stone.
Wednesday the garden tour was in Bluff Farms, where Beaufort Garden Club member, Kathleen Grewenig, was bubbly (even in the rain) when presented with her remembrance gift.
A collector's garden was shown on Thursday in Walling Grove. Current Beaufort Garden Club President, Sandra Educate, dressed the part for her stone presentation.
Friday culminated the tour with a memorial garden in Port Royal. Beaufort Garden Club member, Pat Keown, accepted her gift with her sister, in honor of their deceased mother.