412 East Street-The Point-Frances Parker's garden
 Built in 1810, this historic home still has some original plantings.The garden consists of front lawn, middle parterres and less formal side yard. Mature specimen live oak and pecan trees, as well as various mature shrubs border the lace brick fence as you enter the iron gate.The sweet bay hedge was started by the original owners from cuttings from a trip to Italy. Diffferent textures and colors heighten interest, while soft ferns mingle with azalea and pittosporum. Strappy leaf ophiopogon is accented by violet blue seed heads. The tightly clipped boxwood parterre and Asiatic jasmine obelisks surround perennials and annuals.Pots of colorful citrus trees are scattered about, as topiary specimens march up the front steps. Multiple garden rooms and hundreds of plant species add to the antebellum delight and mystery.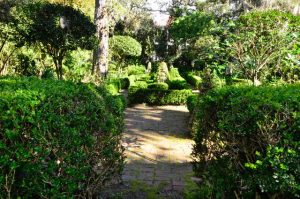 2207 Wilson Drive-Pigeon Point-Teresa Roundy's garden
This garden required the building of several retaining walls, as the lot slopes downward towards the back. The goal of offering year-round blooms was a challenge with the sunny front yard and shady back yard. One of the great delights of this garden is sitting in it, as the back yard is still comfortable even on the hottest days, thanks to several seating areas. To enhance the garden, the owner created paths and sitting areas of pavers which she laid herself. Edible delights throughout the yard include kumquats, satsumas, lemons, blueberries, pomegranates figs and asparagus, which seldom makes it to the kitchen because it is eaten on the spot.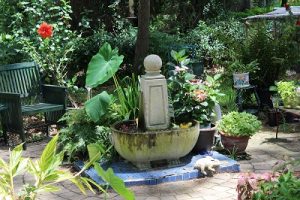 1 Hermitage Pointe-Beaufort-Barb Farrior's garden 
The owners have been gardening on this stunning, two acre property on the headwaters of Battery Creek for 30 years. The eclectic garden has multiple garden rooms with a formal parterre and more informal spaces. Stately oaks shade mature camellias, hellebores, Solomon seal and farfugium; and, flowering vines, perennials and flowering shrubs flourish in sunny areas. Highlights of the garden include multiple varieties of Japanese maples interspersed throughout the picturesque space, which contains an unbelievable variety of plants. The charming potting shed and garden art fill this waterfront garden with multiple spots for contemplation.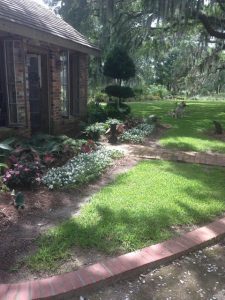 121 Sunset Blvd-Ladys Island-Susan Harden's garden 
This garden's front yard is mostly shady with one sunny area for a vegetable garden behind the fence. Most of the plants were brought from Myrtle Beach, and the owner supplemented with plants that caught her fancy. There is a fern garden under the front steps with a water feature. Along one side yard is a shade garden, featuring a traveling fig tree. The back yard is in full hot afternoon sun along the creek, so the owner utilized many ornamental grasses which do well in heat, sun and poor soil. This is situated on the site of the old oyster factory, so the soil is very alkaline, and any digging reveals lots of oyster shells that seem like concrete. There is also a water feature here, so the owner planted the bank of the creek with shore juniper to help with erosion. Tropical plants that require  winter protection are planted in pots. Two century plants bloomed last year, then died, but provided lots of babies. The yard was not professionally landscaped…but was created by the owner and God.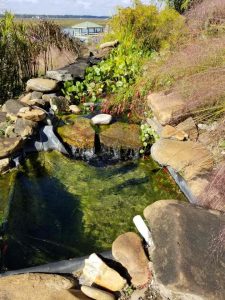 1 Blythewood Road-Linda Peter's garden
Don't miss this grand finale…it will take your breath away! You will find a nearly five acre garden with surprises around every corner. There are plants galore…tropical, subtropical, native, scented, stinky, roses and more. There are also numerous pets, water features and garden ornaments. Come celebrate The Beaufort Garden Club's 25th Garden-a-Day anniversary, and have a chance to win a prize! We are looking forward to seeing you, and be sure to wear your walking shoes.