The Beaufort Garden Club members are celebrating our 83rd anniversary as a club, with special recognition from The Garden Club of South Carolina with Five Statewide Awards!
We also were honored with The National Garden Club First Place National Award for our Website!! Current President, Sandra Educate, and Immediate Past President, Deena Culp, show off a few of the well-earned awards.
The Beaufort Garden Club's reputation of giving back to the community might well have begun when the club formed in 1934 — along with the decision to keep the club small, currently consisting of 29 very enthusiastic members. The Club membership is purposely kept small so members really get to know each other, everyone has an opportunity to shine and meetings can still be held in members' homes.
Don't Miss our Garden-A-Day Tour coming in June 2018
We hope you'll join us when the Beaufort Garden Club presents its Annual Garden-A-Day tour of TEN private gardens, June 4-8, 2018, Rain or Shine. Admission to the gardens is free!
This year, for the first time ever, two different gardens will be open each day from 9:00 a.m. to 12:30 p.m. Most have been planned, planted and cared for by the homeowners. These passionate gardeners appear to have been all over the map, searching out the rare and exotic in the Southern states. And what they couldn't find in plant form, they found in seed catalogs and grew themselves. Each year, Certified Master Gardener members of the Low Country Master Gardener Association are on hand to identify plants and answer gardening questions.
Garden a Day continues to be the social event kicking off Summer in Beaufort. See ya'll there!!
PS: To view beautiful videos of our Garden-A-Day, click here.
---
The Historic GOLD EAGLE TAVERN, Beaufort, SC
Where We Met for Many Years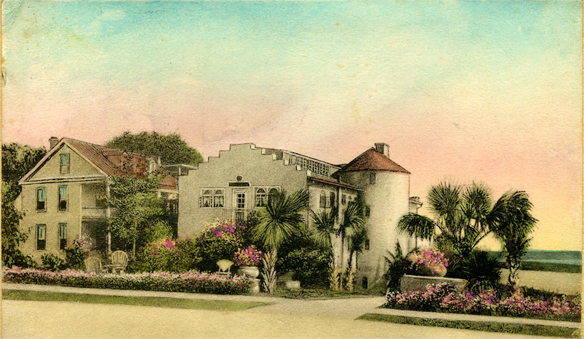 Go to our History page for more nostalgia.